Tripawds is a user-supported community. Thank you for your support!
Whew we had a great day at the Everett Mutt March.  Our Disc club donated 3 performances to the cause, and despite the cloudy weather they had a decent turn out for the 1st year the event was held.  We already chatted about hosting a competition in conjugation with their event next year.  We got to meet all sorts of people and since it was a special benefit for Chase Away k9 Cancer Kess was a big hit.
One of several highlights was getting to meet Cera, the founder of Chase, and her dog Elsie.  As it turns out Elsie is a descendant of Chase, the amazing dog that moved Cera to start the foundation.  It turns out that Elsie is just about awesome and on top of being a top dock dock, she's got the skills to make it as a disc dog as well.  Cera and Elsie decided I needed a chase away shirt for our demos and since the club "uniform" is tie dye it worked out great.
We met one other tripawd throughout the day.  She was with her adoptive family who rescued her after some meany wrapped a wire all around her leg.  They had to remove the leg, but she's getting around great now and learning to socialize and be a happy dog.  They did the walk and stuck around for the show.  Afterwards a young boy of about 9, one of the members of the household came up and asked if I would help teach him to play disc with his dog.  You could tell they had a really special bond as the dog worked and retrieved better for the son that the parents 🙂  The most touching moment came when his pup stopped to scratch with her phantom paw and he ran over to help her out awww . . . sniffle.  Since she was a cattle dog mix I knew there was a pretty good chance we could get her catching.  She didn't quite make a catch, but did several retrieves and was well on her way.  It was extra cool to show him that tripawds rule.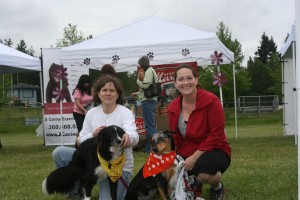 Whew, 3 disc shows didn't wear Kess out so she even played a little flyball.  She hasn't played flyball in 2.5 years and certainly not since the amp.  I think the constant slamming into the box coupled with Kess's crazy nature is just asking for trouble.  She surprised me by being incredibly reserved on her runs.  The funniest part was afterwards the woman helping us came running up to say she thought Kess was limping, much to her surprise she discovered that Kess was a tripawd.
We also got to talk with the local canine oncologist.  She's going to add lots of info about tripawds.com to her website and some info about Kess.  She hsa many patients who are scarred to look into amputation and go to great lengths to avoid it when it's really the best option for the dog.  Once she heard about tripawds.com she knew it was the best place to send folks for honest advice about the decision they are facing.  She had to come by and take some pictures and give Kess some extra tummy rubs.  If that weren't enough notoriety a local author wants to feature Kess in her book about canine cancer.  We felt like quite the local celebrities by the end of the day.  Kess of course is in it for the pets and the occasional cookie.  She made me so proud today and I can't wait to do it again next year.