Tripawds is a user-supported community. Thank you for your support!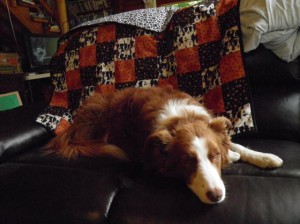 Just a bit of a follow-up on my friends BC Jule, she continues to tolerate her chemo well, and the fundraiser her owners held was a huge success. The quilt I made for the silent auction (first one ever) went to the max bid of $75 in about 10min. Overall the event raised over $2,000, which was above and beyond what the Bruce's needed. All of the surplus will be donated to canine cancer research. So far this family is primed for a happy ending so I'm keeping my fingers crossed.
In addition to that the raffle held by my disc club raised $250 for the Chase Away Canine Cancer Foundation.  It just makes me all warm and fuzzy to know that everyone can still pitch in to help make a difference in someones life.  I know the Bruces were truly touched by the outpouring of help from their circle of friends.  Next up is my annual dog tug making class, to benefit the local BC rescue group.  I've been feeling a little guilty that I haven't been able to help out at the Humane Society over the summer, but as we move in to winter I'm hoping to have a little more time on my hands.  I just need a 30 hour day and to live to 200 so I can get it all done.
Kess's one year ampuversary is right around the corner Oct 28, we've had such an amazing year and I can't wait to celebrate.  Of course there will be a trip to the dog park, some disc, and a tasty treat involved.  I'm looking forward to posting some pics of our big day.