Tripawds is a user-supported community. Thank you for your support!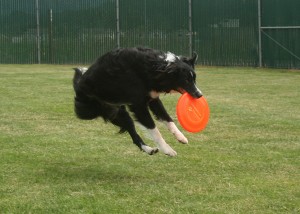 This past weekend Kess competed in the expert overall category at the Washignton state canine disc championship.  Also on site was tripawd Maty, a world famous disc dog who has competed at the Skyhoundz World Championship numerous times.  Maty has been an inspiration to Kess and I and it was great to see both dogs out there tearing up the turf.
Saturday was a DiscDogathon which consists of 5 events: freestyle, bullseye, time trial, spot landing, and team distance and accuracy.  Kess doesn't normally compete in freestyle, but I decided there wasn't any harm in standing out there and playing some disc with my buddy for a couple of minutes, and you have to compete in every event to be in the overall category.  Well Kess was on her game and we had an amazing round of freestyle.  The routines are scored on Presentation, athleticism (dog), Wow! factor, and success (catch ratio).  Here's Kess's performance in freestyle:
I was so proud of Kess, she's just such a great dog and she exceeded all of my expectations for the day.  She placed 2nd in expert freestyle, 2nd expert bullseye, and 3rd expert spot landing.  Tripawd Maty took home 1st in expert spot landing, earning her a spot at the world championship.
We had such an amazing day.  Kess embodies all that it is to be an athlete and a selfless friend.  She gives so much of her self in to all that she does.  Kess's zest for life and joyful heart are an inspiration.   I'm so fortunate to share my life with her.  She has touched my soul and forever changed me as a person.