Tripawds is a user-supported community. Thank you for your support!
Summer has FINALLY reached Washington.  It seems like every weekend is packed full of activities to the point that I look forward to the mundane work week.  Kess has continued to wow and amaze everyone at various demonstrations and competitions.  It's really been a cool experience getting her out there in the public.  So many people make a point of coming over to meet Kess and share their stories both human and canine about cancer, amputation, and life beyond that.  It's really wonderful to be able to connect with people on such an intimate level, even if it is only for a moment, and Kess makes it all possible.
A couple weekends ago I hosted my annual disc event the Cascade Classic.  I let one of my friends throw for Kess as I was super busy with the administration of the event.  Tracy is a very accomplished player who has traveled to the world championship several times.  It was fun to watch Kess interact with another handler and they both had a great time.  Here's a shot I snuck out to take while Kess was competing.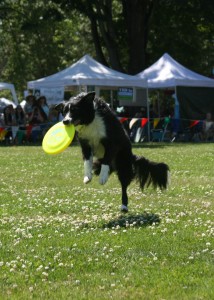 Kess and Tracy lost a tiebreaker to finish in third place in Professional Obstacles.  This is the most challenging event, the thrower must get the disc through and/or around various hoops and poles.  The dog must then try to catch the disc on the far side of the obstacle in a 10×10 box painted on the grass.  I was proud of my girl, shes such a hard worker and always gives 110%.  A little shout out to my other pup  for a moment, my monkeybutt aka. Suki placed 3rd in professional overall.  It was our first time up on the podium, and it was nice to let Suki get a little extra attention for the day.  I put together a little video after the event,  there's no footage of Kess, but you can catch a little of Tripawd Maty at 42 sec and Suki and I show up at 2:02 sec.
We've got one more major event this year and it's our last chance to earn an invitation to worlds.  We're a long shot but my fingers are already crossed.
Beyond that our days are full with lazing around in the garden and trips to the park.  We're on a hiatus from agility for a few weeks, but Kess continues to progress nicely and is up to 6 weave poles and has mastered all of the obstacles that she can compete with.  We look forward to getting more involved in agility this winter.